"This resource is invaluable"
A grant from the Heritage Foundation enabled Woof n Wag to provide free, one-to-one support to 15 local dog owners who were struggling during lockdown.
Established in September 2018, Woof n Wag is a community interest company. This not-for-profit social enterprise aims to make a difference to local dog-owning individuals and families by providing group dog-training classes as well as private lessons, daily exercise, socialisation walks and behaviour-modification therapy.
Director Sheelagh Taylor said: "A well-trained pet can help improve the health and wellbeing of its owners. We believe that all dog owners, irrespective of background, income or ability, should have the opportunity to train their pet and seek advice on behavioural issues."
The company operates from a disused sports field on Stotfold Road. The field is owned by the Heritage Foundation, which in 2019 provided a £10,000 grant for a fence (erected by a team of volunteers) to create a safe enclosure for canine activities. Woof n Wag also installed a small portable office building and toilet facilities.
By February 2020 annual memberships had risen to more than 125. Woof n Wag was providing a half- or full-day 'Woof n Play' service to around 30 dogs during the working week; and 11 group training sessions (each for up to 10 dogs) from Friday to Monday.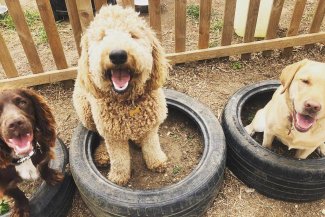 Lockdown impact
COVID-19 had a massive impact on businesses across the UK. And Woof n Wag was no exception.
"On 16 March, new government guidelines meant that we were no longer able to use our van to collect and deliver the dogs attending our Woof n Play sessions," said Sheelagh. "Members had to transport their own pets so we extended our opening times by three hours, offering a 7am to 7pm service to help those with work commitments.
"By this point, attendance figures were down by around a third. We weren't surprised, because people who had been furloughed or had switched to remote working were of course able to look after their dog at home. A week later, the UK went into lockdown and we had to close."
The Woof n Wag team became increasingly aware that many owners were struggling during lockdown because their dog was starting to exhibit negative behaviours, caused by the stress of being cooped up indoors for weeks on end with limited opportunities for exercise or variety. Typical problems included barking, lunging, nipping, aggression, pulling on the lead and separation anxiety.
Keen to help owners address these canine behavioural issues, Woof n Wag applied for the Heritage Foundation's COVID-19 Catalyst Grant Programme with a view to offering free support to struggling Letchworth dog owners who met one of the following criteria: self-employed, key worker, furloughed, unemployed or experiencing financial difficulties.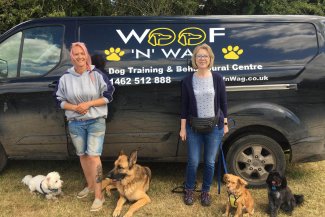 Offering a helping hand
The Heritage Foundation approved the COVID-19 grant application and awarded Woof n Wag funding to deliver two online initiatives via the Zoom platform: group support and dog-training classes; and one-to-one consultations, each lasting between 60 and 90 minutes.
Sheelagh said: "We were delighted to receive the funding but ended up deciding to abandon the Zoom initiative. This was mainly because by the second week of May the government guidelines permitted two people from different households to meet in an outdoor setting, providing that they observed the two-metre social distancing rule.
"We focused our efforts on outdoor one-to-ones instead and promoted them on our Facebook page. We were rapidly swamped with enquiries, but by applying the eligibility criteria we were able to whittle the numbers down to 15 local dog owners. In June each of them had a consultation with Woof n Wag Founding Director Vicky Smith, who has more than 20 years' experience of working with dogs."
Vicky tailored her expert support to meet the unique needs of each dog and its owner. The results were impressive. One grateful beneficiary said: "The training opportunity to help my dog and myself came as a great release from the restrictions of lockdown and being furloughed. I really appreciate having been given the opportunity for this one-to-one session."
Another commented: "This resource is invaluable as we would not have considered a one-to-one previously due to cost. The fact that it was offered free of charge was amazing."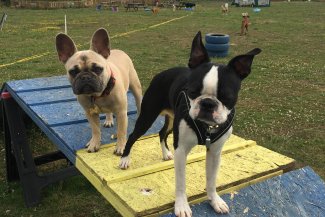 Looking to the future
Following the relaxation of lockdown restrictions, Woof n Wag re-opened for business on 20 June.  
Like all UK companies, Sheelagh and her team have had to adapt to the 'new normal'. They have introduced many new work practices, including social distancing, positioning hand sanitisers at the entrance and exit gates, accepting card payments only, using a nominated lead for each dog and ending the cuppa-and-chat opportunity that so many members used to enjoy after the classes.
Sheelagh remains hugely grateful for the grant funding: "The Heritage Foundation's support for local social enterprises and its understanding of the value they provide to the community are simply amazing.
"We are currently in discussions with the Foundation about repurposing the remaining grant funding to deliver group training and support to local dog owners who fall into the original five categories or who are approaching the end of their furlough period and are concerned about redundancy.
"These sessions will help improve the behaviour of the dogs, while also providing important opportunities for owners to enjoy socialising with others in their local community."
Woof n Wag's next project is to adapt a corner of its field to create a Hertfordshire first – a sensory garden designed to support dogs in need of a calming space during training sessions. The garden will include plants that reduce canine stress levels, including lavender, rosemary and wheatgrass. It will be created by a team of volunteers and will be funded by North Herts District Council.