In early 2022, Letchworth Garden City Heritage Foundation were approached by a local musician to provide something in the town for young musicians and music lovers. Letchworth-based theatre company, Singing Cactus, had been working with the Foundation as part of our cultural strategy, and so a plan was created for a mentoring programme for young artists. 
Singing Cactus recieved £2,176 from our grants programme to produce a series of stagecraft workshops that bands and solo artists under the age of 21 could take part in. Tom and Mark, the company's founders, put together a programme that took place during the May half term. Alongside professional knowledge and advice, those taking part learned how to set up to get their best sound leading to performing at Garden City Sounds during the Letchworth Festival.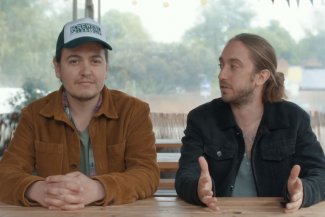 'It's by far the easiest process we have been through to get funding, you actually get to go and speak to someone about what you're doing' 
Tom, Singing Cactus 
For every day the workshops took place, two bands or solo artists had access to a fully equipped unit on The Wynd and were able to take advantage of expert knowledge from Tom and Mark. Talented and experienced musicians and actors, Tom and Mark imparted their extensive knowledge to the up-and-coming artists and even jammed with the bands to create new sounds. In the last session of the week, the workshop was opened to all the bands that had taken part so they could work together and swap ideas. 
The workshops culminated in the bands taking part in the Letchworth Festival at Garden City Sounds, an experience that many young bands cannot always take advantage of.  
'It's such a good experience and it can help people grow themselves as musicians'  
Sunset Mimosa 
This programme makes up the latest offering to our grants case study film library. In this latest instalment, we sat down with Tom and Mark from Singing Cactus to talk about their work and how they see it impacting the town. We also spoke to Sunset Mimosa, one of the bands that took part in the workshops and performed at Garden City Sounds, to find out how they felt the time spent with Singing Cactus benefited them. 
At the Foundation, we are passionate about working with groups and charities that have ideas that truly help the town in a variety of ways. Please reach out if you have an idea that you may need help with: grants@letchworth.com