It seems that many of us developed a sweet tooth during lockdown. Thankfully The Cakey Lady was on hand to help satisfy our cravings…
Jemma McLean is a self-taught baker. She started off small in 2012, baking from home while raising her three energetic children, who are now aged between nine and 15. She honed her craft and developed a strong reputation for creating unique 'special occasion' cakes with intricate detailing.
By September 2018 demand had grown considerably, with plenty of repeat orders from satisfied customers. It was time for Jemma to take the next step: opening up a shop from which to bake, decorate and sell her cakes. On learning that a popular cupcake shop in The Wynd was up for sale, she seized the opportunity to fulfil a long-held dream.
Jemma said: "I went with my husband, Andy, to view the shop that evening and immediately agreed to buy it… lock, stock and barrel. We even bought the cake tins! We both grew up in Letchworth Garden City so we knew that The Wynd was the perfect location, alongside the other local independents. It's like a little village in the town centre."
The purchase went very smoothly. Jemma and Andy put their own decorative stamp on the premises and The Cakey Lady opened its doors for the first time on 10 November 2018. Jemma's existing customer base remained fiercely loyal and within weeks the business began to take off.
"We are grafters: there was no way we were going to stop working"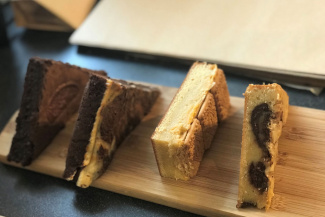 "We were very careful to follow social distancing guidelines. We would place our bag of goodies on the doorstep, ring the bell, then step back and wait for the door to open. Customers were so excited to receive their delivery and many left us lovely notes and waved to us from their window!"
The volume of orders rose at a meteoric rate, from 30 deliveries in week one to 160 in week four. Jemma and Andy found themselves having to work for up to 70 hours a week, including servicing deliveries as far afield as Biggleswade and Stevenage. Recognising that this level of effort was unsustainable, they changed their business model.
"We restricted deliveries to Letchworth, Hitchin and Baldock," said Jemma, "and offered a collection service as an alternative for customers living outside the area. It didn't affect the number of orders coming in, but at least we weren't having to travel extensively to deliver our cakes.
"We also set up a website. We had always wanted one, but our worries had held us back. Lockdown made the decision for us; we had no option but to get on with it. And it turned out to be one of the best moves we've made."
Jemma was able to call upon the expertise and support of friend and IT guru Fabio Vincenti, who co-owns Fabio's Gelato. With telephone support from Fabio, Andy set up The Cakey Lady website, complete with its own ordering system for local deliveries and collection. Jemma and Andy quickly got the hang of it and suddenly the pressure was off: Jemma could at last concentrate on baking cakes and promoting the business.
"We used Facebook and Instagram to let customers know which cakes were available, the order deadlines and the delivery and collection arrangements," said Jemma. "We simply couldn't have managed without social media."
The new normal
Jemma "tentatively" opened the shop to the public in late May. "We positioned a table in front of the door and started serving coffees and cakes for people to take away," she said. "Business is gradually picking up as people start returning to shop in the town centre.
"It's still just myself and Andy running things for now, but we'll bring back our two part-time staff when we are confident we can do this safely – it's a very small shop and they will have to adapt to a completely new way of working."
Jemma is immensely grateful to her customers for their loyalty and encouragement throughout lockdown. She is also keen to acknowledge the Heritage Foundation for granting a three-month payment holiday to its business tenants during lockdown.
"People in other towns haven't had that level of support and are insanely jealous," she said. "It was an amazing thing to do. I'm genuinely looking forward to paying my rent this month, because I'm super-grateful to the Heritage Foundation for stepping in to help us."
It's clear that Jemma is emerging from this difficult period with a completely new mindset: "Lockdown has taught me a valuable lesson: don't overthink things. I no longer worry about trying something new; now I just 'get it out there'. If it doesn't work, I simply stop doing it."
Brimming with positivity, Jemma is now developing plans to expand the business. 
Visit their website, or follow them on Facebook and Instagram!