The winners of Letchworth Garden City Heritage Foundation's first-ever Community Awards have been announced.
Nominations were received from the public throughout December with a community panel selecting the winners.
Outstanding Individual Awards:
Over 18 (prize - £100 voucher for a meal in a Letchworth restaurant):
Chris Taylor impressed judges for creating displays outside her home, such as a knitted advent calendar during the Christmas period and rainbows celebrating NHS key workers, to cheer people up at a time when mental health has been so important. 
Chris was also commended for supporting movements such as Black Lives Matter through her art and for making knitted pieces to raise awareness of important public health messages.    
Under 18 (prize – 18-month pass for the Kids Club at Broadway Cinema):
Four-year-old Liliana Pearce, the youngest nominee, was praised for drawing pictures for residents in care homes, sending Christmas cards to those who felt isolated, sharing information flyers with neighbours and for showing people how to be resilient during lockdown.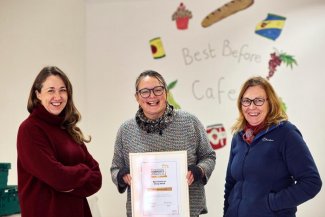 Each winner will also be presented with a keepsake bowl hand made by artists Debbie from Made With Clay and Neil Wake.
The Letchworth community was invited to submit nominations for individuals, groups and charities who had been active in one or more of the following areas:
Learning support for children and young people

Helping the community in an exceptional way

Supporting vulnerable families

Tackling isolation of older people

Improving mental health and wellbeing

Keeping people active
They were also asked to nominate businesses who had to innovate to keep trading during lockdown while still doing their bit to support the community.
As well as recognising the contributions of individuals, groups and businesses, the aim of the awards was to inspire the people of Letchworth for the future and encourage residents to volunteer.
The community panel made up of local businesspeople, volunteers, the Letchworth BID and charity workers deliberated over the nominations via video last week.     
Pam Burn, Chair of the Foundation said: "The awards were launched to celebrate the contributions of those who went above and beyond to support the Letchworth community in 2020, particularly throughout the COVID-19 pandemic. The nominations we received were moving and inspiring and the stories of exceptional generosity, courage and determination highlighted the importance of the community working together.
"By highlighting what was achieved under the most challenging circumstances we hope this will reenergise our community, empower further social action through cross-community partnerships and encourage an ongoing spirit of innovation and adaptability within the business community.   
"We also hope the winners carry on with their work and continue to be an inspiration for the town we love." 
Following the positive response to the awards, Letchworth Garden City Heritage Foundation plans to make the awards an annual event.
If you are interested in volunteering in the community in 2021, visit North Herts CVS.