The grants committee met on the morning of Friday 29 July and discussed the latest grant applications. They also listened to presentations from Letchworth Garden Shed and Letchworth Educational Settlement. 
Letchworth Garden Shed is a recently formed group that wishes to create a library of things local people can loan instead of buying new. The concept will enable community members to access tools and equipment they ordinarily only use occasionally such as ladders, jet washers, hedge trimmers, garden waste shredders etc. The group explained how this approach could save money, prevent landfills and positively impact our planet's limited resources. Letchworth Garden Shed is in the preliminary stages of the project and shared the concept prior to applying for a grant.   
Letchworth Educational Settlement shared their future ambitions and plans so that we can see how we may work together again in the future. 
Sport & Wellbeing 
We have awarded Letchworth Garden City Bowls Club £4,000 to help repair and replace the cushioning in the ditches around the bowling green. This work will directly benefit 36 members of the club but also others who practice and visit as an 'away team'. Bowls is a sport that can be played by a range of ages and differing levels of physical fitness. This adaptability makes it an essential recreation for us to support. 
Stevenage Football Club Foundation delivers community-based activities ranging from football and school holiday camps to community-based health and fitness sessions. There are sessions that take place at The Jackmans Community Centre which are open to residents from across Letchworth. Attendees are referred to the programme by local GPs however they can also be referred by The Hospice and NHS Physios and Occupational Health practitioners. 
The sessions are run using the Otago Exercise Programme, a highly respected programme aimed at residents aged 65 – 75 with proven results in improving strength and balance through regular exercises relating to activities carried out in the home. We have granted Stevenage Football Club Foundation £1,680 to keep up the sessions in Letchworth.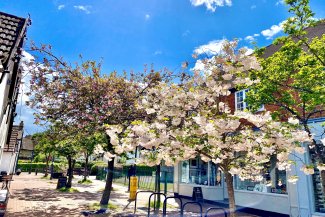 Sustainability  
The Green Festival in The Wynd is set to take place again this year after a successful 2021 event. We have granted £158 to cover the costs of creating promotional material such as banners and posters and advertising in the local press. This will be the only financial cost associated with the event, the stalls and venues are given free of charge, and it is organised by a small group of volunteers. 
Education & Learning 
Improving literacy, helps to improve employment opportunities, it enables parents (and grandparents) to read to their children and support their education. ReadEasy is a charity that helps adults to learn to read and develop their reading skills, they have requested £1,500 to provide training and coaching materials for ten coaches. All the training takes place online with full-time paid professional trainers working for Read Easy. The funding will be specifically for Letchworth residents. 
The next grants committee meeting will be taking place on October 21, 2022, with the next application deadline being Sunday 25 September. Visit our grants page to find out more.