One day into lockdown, Khoi Khoi Bar and Vino completely transformed its operational strategy so that it could continue serving the local community. This bold move has taken the business to new heights.
Located in Eastcheap in the heart of Letchworth Garden City, Khoi Khoi is a stunning South Africa-themed wine bar offering a variety of fine wines, cocktails and beers of the world, adventurous food and live music at weekends.
Owner Herbie Nyathi has lived in Letchworth since 1998 and runs the business with wife Rumyana. They both have an NHS background: Herbie's day job is Out of Hours Clinical Lead for NHS Mental Health Services in Hertfordshire and Rumyana is currently on a break from her Recovery Nurse role at the Lister Hospital, Stevenage.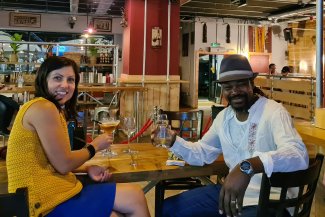 New venture
The couple first ventured into the hospitality industry in 2016 when they opened the Khoi Khoi wine and tapas bar in Baldock. Herbie said: "It was a small venue in a residential area and we were very limited in terms of what the licence allowed us to do."
When the Eastcheap premises became available, Herbie immediately recognised its potential. "It's in a great location, just down from the Broadway Cinema, close to four premium Italian restaurants, David's bookshop (one of my favourites) and the gateway to the shopping centre," he said.
"The Heritage Foundation vetted us carefully and visited our Baldock business three times. I explained my vision for Khoi Khoi in Letchworth: a beautifully designed wine bar offering a great ambience, fantastic food and live music. The team was very receptive to the idea of allowing a business like ours to find its own space and I feel so privileged that we were the ones who were chosen to come into the town."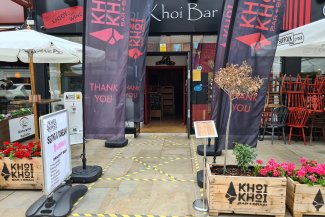 Herbie relocated Khoi Khoi Bar and Vino to Eastcheap, Letchworth, in September 2019. Six months later the business was at its peak with a loyal customer base, a buzzing atmosphere and some great bands lined up to perform.
"We quickly devised a new business model"
Exceptional reach
The COVID-19 lockdown in late March changed everything, but Herbie's reaction typifies his 'keep calm and carry on' approach to business.
"We could have just shut the doors and grieved over our loss," he said. "But instead we quickly devised a new business model so that we could continue functioning during lockdown and cooking delicious dishes in house. Luckily our licence allowed us to do take-aways and employ drivers so that we could deliver our food and drink to our customers."
The business started doing deliveries the day after lockdown was introduced. "We were lucky," said Herbie. "We'd been building the Khoi Khoi brand since we opened our first bar in Baldock, so we already had a strong social media presence. On Facebook alone, we were able to promote our new delivery service straight away to around 10,000 contacts, inviting them to order from our website. That's an exceptional reach for a small business like ours."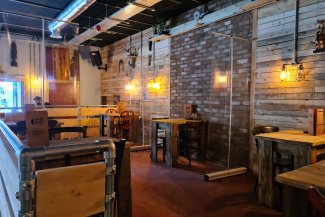 A relentless barrage of social media posts and adverts and leaflets in the Comet newspaper ensured that news about Khoi Khoi deliveries spread rapidly during lockdown, assisted by word of mouth and repeat business from satisfied customers. Remaining true to its original 'music bar' vision, the business also hosted virtual open mic nights three times a week, reaching up to 4,000 people live on Facebook.
Resilient operation
In his day job, Herbie is involved in ensuring that NHS staff in Hertfordshire adopt safe working practices and have adequate PPE [personal protective equipment. He applied his NHS knowledge to make sure Khoi Khoi had all the necessary COVID-19 safeguards in place and he trained all the staff himself.
"I made sure that our drivers all wore Khoi Khoi T-shirts and aprons and knew the safety routine: place the food on the mat, ring the doorbell, step back and wait for the customer to open the door. This gave people confidence," he said
"Our customers trusted us to provide good-quality food and drink promptly and we got better and better at doing that. I ended up employing nine drivers to deliver orders to Letchworth and the surrounding towns. We also used delivery platforms like Just Eat and Uber Eats."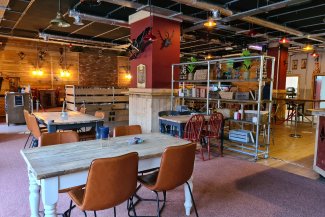 Obtaining supplies was a constant challenge, but Herbie and the team overcame all the obstacles, thanks in no small measure to mutually supportive relationships forged with many local businesses during this difficult time.
Herbie is hugely grateful for the support he received during this period: "We got a three-month rent payment holiday from the Heritage Foundation; ideas and assistance from our resourceful Town Centre Manager, Chris Wilson; as well as government grants and loans, and the furlough scheme for our bar staff. It was overwhelming."
Unexpected benefits
The lockdown period brought unexpected benefits to the business.
It enabled Khoi Khoi to engage with a raft of customers in Letchworth, Baldock, Biggleswade, Stevenage, Hitchin and Ickleford, many of whom have since visited the bar and experienced at first hand its unique ambience. It also gave Herbie time to add the finishing touches to the venue's highly artistic South Africa-themed décor.
The bar used to be the star attraction, with the kitchen operating in the background, but the delivery service enabled Khoi Khoi to showcase its range of delicious dishes to hundreds of new customers. "It was a blessing in disguise," said Herbie.
In fact, the food element of the business is now so strong that in mid-September Khoi Khoi opened an additional, fully equipped kitchen on Letchworth's Diamond Industrial Estate. This will enable the business to balance the demand for sit-in meals at Khoi Khoi in Eastcheap with the demand for prompt takeaway and delivery services.
Herbie has emerged from lockdown with renewed confidence and hope for the future. He said: "I believe a hospitality business that is reliable, consistent, stable and viable should be able to withstand occasional turbulence, like the pandemic.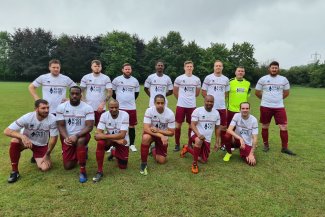 "We made changes in order to survive lockdown and we continue to adapt to the latest safety advice, rules and regulations, including social distancing and the importance of sanitising. I now know that in the event of a second wave of COVID-19, I would be able to keep trading – yes, we would feel the pain and the stretch, but we would survive. And that's reassuring."
The business continues to connect with local communities. "Before lockdown we regularly hosted events and raised money for the Garden House Hospice," said Herbie. "We are a proud sponsor of Letchworth Eagles Under-12 boys' team and we recently founded Khoi Khoi FC, which we hope will join the Sunday League in the next season. 
"We really hope that there will be more we could do to connect with our local communities in order to give back to people who have supported our business during COVID-19 pandemic."