Proposals for LG3 Land, east of Talbot Way and Kristiansand Way
We were very keen to hear your feedback on the proposed development to the east of Talbot Way and Kristiansand Way in Letchworth. This is the proposed LG3 site in the Council's Local Plan and is the second largest of our proposed development sites. 
Our proposal:
Up to 120 homes
40% affordable housing
Retention of existing allotments
Vehicular access via Flint Road
Comprehensive landscaping scheme
Extra information about our LG3 site proposals can be found by clicking on the Sketch Plan button below: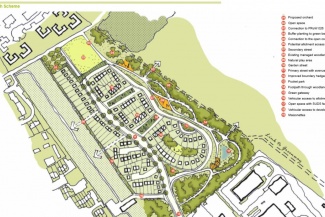 We held a dedicated LG3 pop-up consultation event at the Three Horseshoes in Norton on Tuesday 21 May. Thank you for coming along.
The LG3 Sketch Plan was presented to visitors at the event, which included the artists impression of the site, as seen in the image.
Thank you for sharing  your views and ideas in relation to the LG3 site.
An LG3 Land east of Talbot Way and Kristiansand Way Survey was made available online. This has now closed. A hard copy can be found here.
Thank you for your time in providing feedback.
We welcomed your feedback via: