Proposals for LG3 Land, east of Talbot Way and Kristiansand Way
North Herts Councillors have resolved to grant planning permission, subject to a legal agreement, for the development to the east of Talbot Way and Kristiansand Way in Letchworth. This is the proposed LG3 site in the Council's Local Plan and is the second largest of our proposed development sites. 
Our proposal:
Up to 120 homes
40% affordable housing
Retention of existing allotments
Vehicular access via Flint Road
Comprehensive landscaping scheme
Strategic Masterplan Document
You can view all of the details of the plan including detailed drawings by downloading the LG3 Framework document.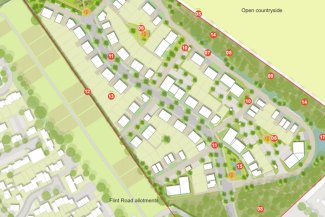 Consultation on the LG3 development with local residents began in 2019 where important views were shared and taken on board. 
Planning permission was granted (subject to legal agreement) by North Herts Council in July 2023
We welcome your feedback via: