Outline planning permission for a new residential development east of Talbot Way in Letchworth has been submitted by Letchworth Garden City Heritage Foundation.
The site is allocated for approximately 120 private and affordable homes as part of the North Hertfordshire Local Plan 2011-31 being led by North Hertfordshire District Council (NHDC). It is one of the sites being put forward by the Foundation as part of its housing strategy to create more homes for Letchworth residents and support the local economy.
Executive Director of Development & Stewardship, David Ames, said: "To prepare for the scenario that the Local Plan is adopted, we have been formulating initial details for this development.  This outline application will allow NHDC to consider the principle of the development, including access from Flint Road.
"An important part of these plans was the feedback we received from the community in 2019 and in January of this year.  Through this dialogue, we have provided reassurance that the Flint Road allotments will not be impacted by the development and that links to the countryside and Norton will be provided.  We are also pleased to respond to requests for a play area and green space as part of the development, which will be carefully designed to sit within the landscape.  There were some concerns about the impact on local roads, so we have provided detailed traffic surveys of the surrounding area to Hertfordshire County Council."
The proposed scheme will provide high-quality, flexible accommodation to meet the different stages of life.  Forty percent of the housing will be affordable, with NHDC nominating residents for these properties.
The new homes will be within a landscaped setting, retaining most of the existing trees and young woodland planting on the boundaries of the site. Tree planting and the creation of habitat including new ponds, wildflower meadows, and space to grow food will lead to a net gain in biodiversity.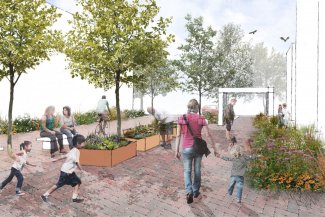 If outline planning permission is granted, a further planning application will be submitted with detailed designs of the development and will be subject to further consultation by NHDC.
To read the comments and questions from the community consultation in 2019 and from January 2021, visit our dedicated webpage.